I am very excited. Tomorrow morning I am flying to Holland to meet up with some of my wonderful online friends. I am only gone for the weekend but I can't wait.
I am also taking part in my very first blog train...yay!! Freebies!!
This blog train is run every month courtesy of
The Goodie Train
and this month I have joined. You can download my part below and also find the rest of the links in the train.
I would be grateful if you took a moment to vote for my blog when you download. Thanks.
My part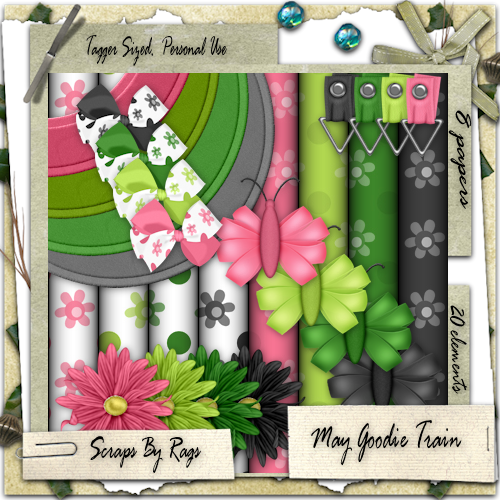 You can download it
Here.
You can also find other freebies on my blog by clicking
Here.
Other stops on the train.
http://pimp-your-tags.blogspot.com/
http://pimpmytagswithscraps.com/blog/
http://scrappingbits.blogspot.com/
http://lafleurstuffs.blogspot.com/
http://jenssweettemptations.blogspot.com/
http://julies-jems.blogspot.com/
http://chilidesignzz.blogspot.com/
http://scrappindsigns.blogspot.com/
http://craftedbygina.blogspot.com/
http://scrapsbyrags.blogspot.com/ <--You Are Here
http://www.shrkmomscreations.blogspot.com/
http://myjuicybits.blogspot.com/
http://i-dont-give-a-scrap.blogspot.com/
http://www.charlieonline.it/PSP-MyScrapping-TheGoodieTrain.htm
http://lu-malu.com/armazemscraps/
http://toristidbits.blogspot.com/
http://eyeopeningdesigns.blogspot.com/
http://digicats.blogspot.com/